5 Mile Pass
This area is very close to the Salt Lake and Utah Valleys. It is a fun place to take someone to learn how to ride an ATV and also a fun place to take the kids. There are flat trails, some small hills and some very steep hills. There is also some nice loop rides. From my house in South Jordan I can be there in less than 1 hour (41 miles), which make this a great destination for just the day. There are a lot of people on the weekends but the area is so large with plenty of trails to disperse all the people. The only bad about this area is that there are no facilities (no restroom or picnic tables). Bring your own picnic lunch, table and awning with the family and you can have a great family outing.
Getting There: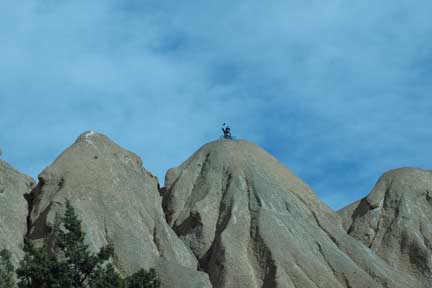 To get there from Salt lake Valley take Redwood Road south, which is also Highway 68 past Camp Williams. At the light (8570 N) take SR 73 west. From I-15 take the Lehi Exit and go west on Main Street (Highway 73). You will go through Cedar Fort, Fairfield and by Cedar Fort State Park. It is about 16 miles southwest of Lehi. There is a larger parking area on the north side of the road that can hold well over 100 trucks and trailers. Please remember to watch your speeds in the parking area.
Watering Holes:
Food, Gas, and Groceries are at the gas station in Cedar Fort or the intersection of Highway 73 and Redwood Road.
Camping: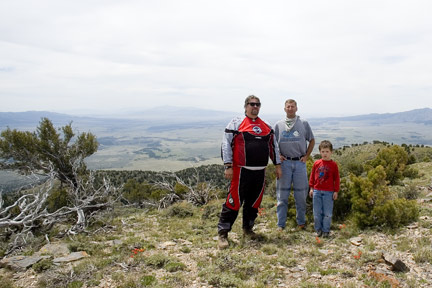 There is primitive camping anywhere you like pretty much. Some of the best spots are: On the south side of the road about 100 yards from the main parking lot just off Highway 73 up in the cedar trees against the hill. No trails behind there so you won't get a lot of dust or people driving in your camp. Another couple of spots are the first and second roads west of the main parking lot on the north side of the Highway about ¼ of a mile up in the trees. This is over where people ride so you will have people riding by your camp. If you want to let your kids ride around camp during the day where you can watch them this is the place to camp. Another good spot is west of the main parking lot on Highway 73 at the turn off to Faust; there is a fork with 4 roads. The main Highway 73, the Faust Road, the old rail road bed (dirt) and then a dirt road that goes directly south. Take the dirt road that goes directly south. There are a few primitive camping spots on the east side of this road with less people riding though your camp
Riding
The riding area can be split up into north and south of Highway 73. The land is a mix of BLM and private land. If the land is private and posted to keep out please do keep out. There are also plenty of trails already there so please don't make any new ones. Be considerate of others in the main parking lot and campers, remember when you go by them your dust will remain there for a while. There are a lot of old mines in this area. Don't go into them and stay safe.
North Riding Area
This area has many trails that go everywhere. There are flat trails with hills that you can climb. The more north you get the steeper it gets. There is also a large hill directly north of the parking lot that is fun to climb. There are so many trails going every which way that it is hard to describe exactly where to go. This area is just a lets go riding area picking whatever trail and seeing where it takes you. For a loop trail go west as much as you can and then start going north you will find some mines that have had grills put over them, you can now start heading east and you will end up east of the parking lot. Just take one of the many trails south west to the parking area.
South Riding Area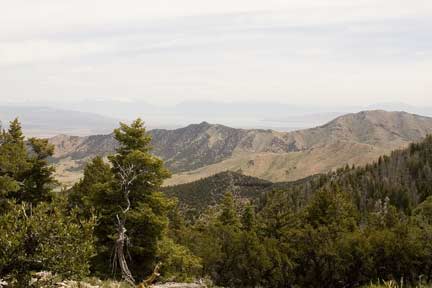 This area has a road that goes south at the Faust Turnoff and follows the mountain range on the west side all the way to Highway 36. There is another road on the east side of the mountain that goes south from Cedar Fort State Park turn off, all the way south to then town of Eureka. There are three roads that connect these roads through passes. One at 7 mile pass, another at 10 mile pass and the last at 12 mile pass. There are also many trails that go up the many canyons. You could make a loop down to any one of the passes and then back. There is also one canyon that goes up to Dry lake.

Winter Riding

Don't put that ATV away in the winter; this is a great place for riding in the snow when there is less than a foot and half of snow. Anything over a foot and a half and your ATV under carriage will float on the snow and your wheels will never hit the dirt and you will be stuck unless the trail is packed down.

GPS Waypoints

Dry Lake Trail Begin N40°00.592 W112°11.769 Altitude 7901 feet

Dry Lake N40°00.592 W112°11.769 Altitude 7901 feet