Soapstone Basin
Getting There:
Soapstone Basin is in the Uinta National Forest and Wasatch Cache National Forest between the Mirror Lake Highway Road east of Kamas and Highway 35 east of Woodland. To get there from the Salt Lake Valley, Take I-80 east, up Parleys Canyon. At the Silver Creek Junction take Highway 40 south. At the Keetly Junction (second Exit) go east on Highway 248 to Kamas. At the stop light in Kamas you have two choices depending if you want to go up the Mirror Lake Highway 150 or Highway 35.
For Highway 150: Turn left on Main Street for Highway, then turn right at the next stop light on Center Street (Highway 150) . Travel east on Highway 150 for 14.7 miles. You will see the Soapstone Basin Turn off to the right, top picture. There is parking right on Highway 150 and also a restroom. This is also the parking area in the winter. The road is paved down across the bridge to an RV Dump Station. The RV Dump Station area also has fresh water. You will go past Camp Rogers, which is a Y.M.C.A. Camp where the road turns to dirt. The road has two switchbacks that you will need to go wide on and make sure know one is coming down the road, both turns are wide enough for you to go wide on to get your trailers all the way to the top. The road was in great shape when we were there.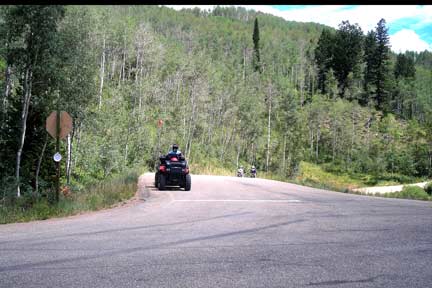 For Highway 35: turn right on main street in Kamas and go 2 miles south to the intersection of Highway 35 in Francis. Turn left (east) on Highway 35. I don't know how far up the canyon it is. If you don't want to do the switch backs then go up Highway 35.
The main Soapstone Road is 5.7 miles long and connects to Highway 35 from that goes from Woodland to Hanna.
Watering Holes:
In Kamas there is a store, gas station and some eating places. I would recommend the Kamas Cafe. In Francis there is a gas station. Don't forget to stop at the Beaver Creek Nudist Ranch, it is a great place for a family vacation. It is on the Mirror Lake Highway by Samak. Samak is Kamas spelled backwards. This picture makes a great picture to use for your family Christmas Card.
Camping: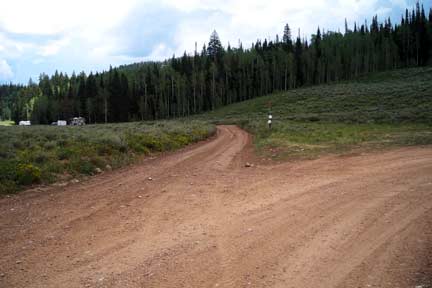 There are many Forest Service Campgrounds on the Mirror Lake Highway. There is Mill Hollow Campground on Highway 35. You would have to trailer from the Campgrounds to the Soapstone Highway. On the Soapstone Road Between Highway 150 and Highway 35 there are a lot of primitive camping spots. Also many of the forest roads that connect onto the Soapstone Road have primitive camping spots. The main road is a good graded road to pull a trailer on. There are the to switch backs coming from the Mirror Lake Highway side. I wouldn't pull a trailer up any of the other forest roads unless you know where your going. Some are fine and others can be narrow and rocky.
Riding
The main Soapstone Road is a nice grade road and good for any beginner. Most of the side roads I would rate for a beginner. The trails are surrounded by pine and aspen trees. There are some streams that may have fish in them but I have never fished any of them. I think this area is the best riding area on the Mirror Lake Highway. It is not as rocky Murdock Basin and not as steep as Taylor's Fork. The only thing missing is a few lakes to fish. O well Can't have everything. You will need a map or GPS to know where you are going because of the amount of roads up there. There are many trails that could turn into a nice loop ride. There is also the Iron Mine Trail that I havent been on yet. Also checkout the Phelps Brook OHV trail .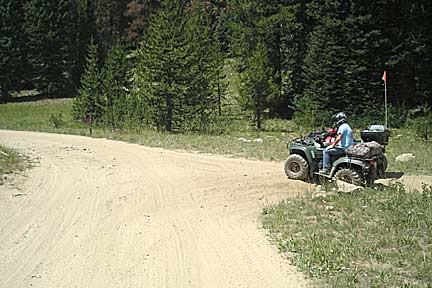 Winter Riding
The Mirror Lake Highway 150 is groomed in the winter and is a snowmobile trial all the way to East Fork of the Bear. The Mirror Lake highway is plowed to the Soapstone Basin. There is a parking lot right on the Highway 150 and a restroom. The Soapstone Basin Road is also groomed in the winter. You can ride up either road but I wouldn't get off the groomed trail without a shovel and a case of power bars.
GPS
Soapstone Basin Turnoff From Highway 150 N40°34.871 W111°02.914 Altitude 7795. Iron Mine Turnoff N40°34.079 W111°02.284 Altitude 8415. Soapstone Basin Turnoff From Highway 35 N40°31.142 W111°02.774 Altitude 8396.