Spring Canyon
Getting There: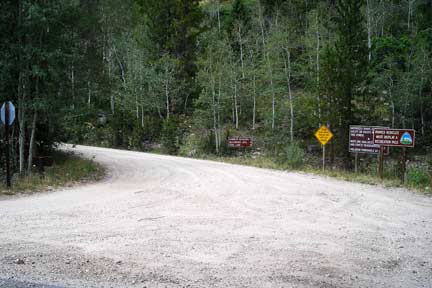 Spring Canyon is in the Wasatch-Cache National Forest on the Mirror Lake Highway Road east of Kamas. To get there from the Salt Lake Valley, Take I-80 east, up Parleys Canyon. At the Silver Creek Junction take Highway 40 south. At the Keetly Junction (second Exit) go east on Highway 248 to Kamas. At the stop light in Kamas, turn left on Main Street for Highway, then turn right at the next stop light on Center Street (Highway 150) . Travel east on Highway 150 for 17.5 miles. You will see the Spring Canyon Turn off to your left. There is no trailhead so you can drive up the road until you find a spot or park in one of the primitive camping spots right on the Mirror Lake Highway road.
Watering Holes:
In Kamas there is a store, gas station and some eating places. I would recommend the Kamas Cafe. Don't forget to stop at the Beaver Creek Nudist Ranch, it is a great place for a family vacation. It is on the Mirror Lake Highway by Samak. Samak is Kamas spelled backwards. This picture makes a great picture to use for your family Christmas Card.
Camping:
There is the Duchesne Tunnel Campground Right Across the Street from the Spring Canyon Road. There is also some primitive camping spots on the Mirror Lake Highway around the turn off.
Riding
This is nice in places and rocky in others. You can ride almost to Washington Lake. also there is a trail into Lambert Meadow. There are many lakes you can drive to so you may want to take your fishing pole.
Winter Riding
The Mirror Lake Highway 150 is groomed in the winter and is a snowmobile trial all the way to East Fork of the Bear. The Mirror Lake highway is plowed to the Soapstone Basin. There is a parking lot right on the Highway 150 and a restroom. The Spring Canyon Road is NOT groomed in the winter. I wouldn't got up the trail without a shovel and a many cases of power bars.
GPS
Soapstone Basin Turnoff From Highway 150 N40°35.595 W111°00.271 Altitude 8200