Doc Flats Mantua
Getting There:
The town of Mantua (man-to-way) is between thew towns of Brigham City and Logan on Highway 89 in Northern Utah. From the town of Mantua head south on Main Street. At the fork go right on Willard Peak Road. About 1 mile from Main street there is a trailhead on the left side of the road. There is also a trail head 1 mile farther up the canyon.
Watering Holes:
In Logan and Brigham City there is all services. There is also a country store in Mantua.
Camping:
There are some primitive camping stops 1 mile up the dirt road. I wouldn't go more than 1.5 miles past the first trailhead unless you know where your going. It does get narrow and steep where the road does a switchback to the left.
Riding
This is a nice trail but crowded. There is a lot of private property up here so you will need to stay on the roads. There is on fork in the road. The right goes to the top of inspiration point. This road does have some steep places. Perry Reservoir up the right fork road, don't know if there is fish or not.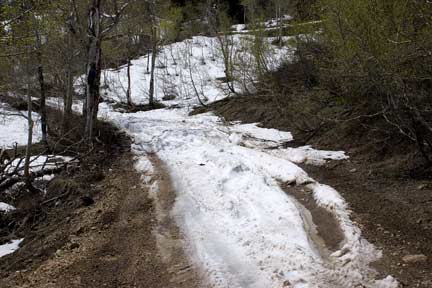 There is Willard Basin Campground that has 4 tent sites up at the top of the road. You would have to be crazy to go up there in anything but a jeep or ATV. We went there in the middle of June and couldn't get to the top because of snow. Probably would be clear in July. The fork to the left goes to private property that has it marked closed after a few miles. There is also a church camp up there. The roads are lined with pine and aspens trees and are dirt with a few rocks. There isn't a lot of miles of trails but enough for a fun day of riding. The moose were right on the road, we also saw deer and a hawk.
Winter Riding
This trail is popular with snowmobiles in the winter but it isn't groomed and therefore not good for ATV riding unless you like shoveling snow.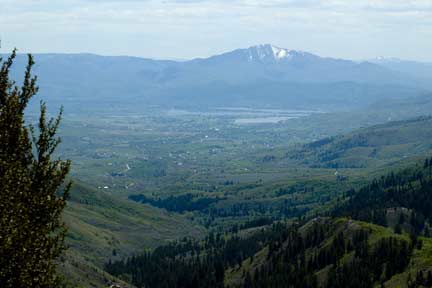 GPS
First Trailhead N41°28.938 W111°56.538 Altitude 5354, Camping N41°27.945 W111°56.660 Altitude 5669, Fork in the road N41°26.8138 W111°56.483 Altitude 6640